Waiting for a new baby to arrive is such an exciting time in a mommy's life. There are so many hopes, expectations and dreams about what life will be like once your little one is here. This is also a time when baby showers are planned to shower the parents with gifts to help welcome the new baby. It can be challenging to find baby shower gifts that are thoughtful, practical, and beautiful. This gift guide showcases beautiful and unique gifts for baby girls that any expectant parents would LOVE! These baby girl shower gift ideas are all beautifully made and will be cherished by the new parents and baby. So lets get right into the details of this list, shall we?
This post contains affiliate links, which means that if you click on and/or make a purchase using some of the links in this post, I may earn a commission at no extra cost to you. Read my full disclosure policy here.
---
Say hello to this absolutely beautiful baby memory book! This minimalist and classic journal provides space for recording everything about baby from pregnancy though the first five years of baby's life! During pregnancy, key dates and memories can be recorded, such as when the baby's heartbeat was first heard and when kicks were first felt. Once the baby is born, the new parents can include the baby's birth story, hand and footprints, and all of the baby's "firsts" from their first smile to their first steps! There are so many additional details and memories that can be recorded and there is even space to include baby photos!
This gorgeous hardcover linen journal is available in two colors: classic white and luxe grey. It contains 98 8×10″ pages and features gold foil on the cover and spine. Your purchase includes a cotton drawstring pouch for storage and protection. This baby memory book is such a thoughtful baby shower gift for expectant parents to record all of the precious moments and memories of their little baby's life.
---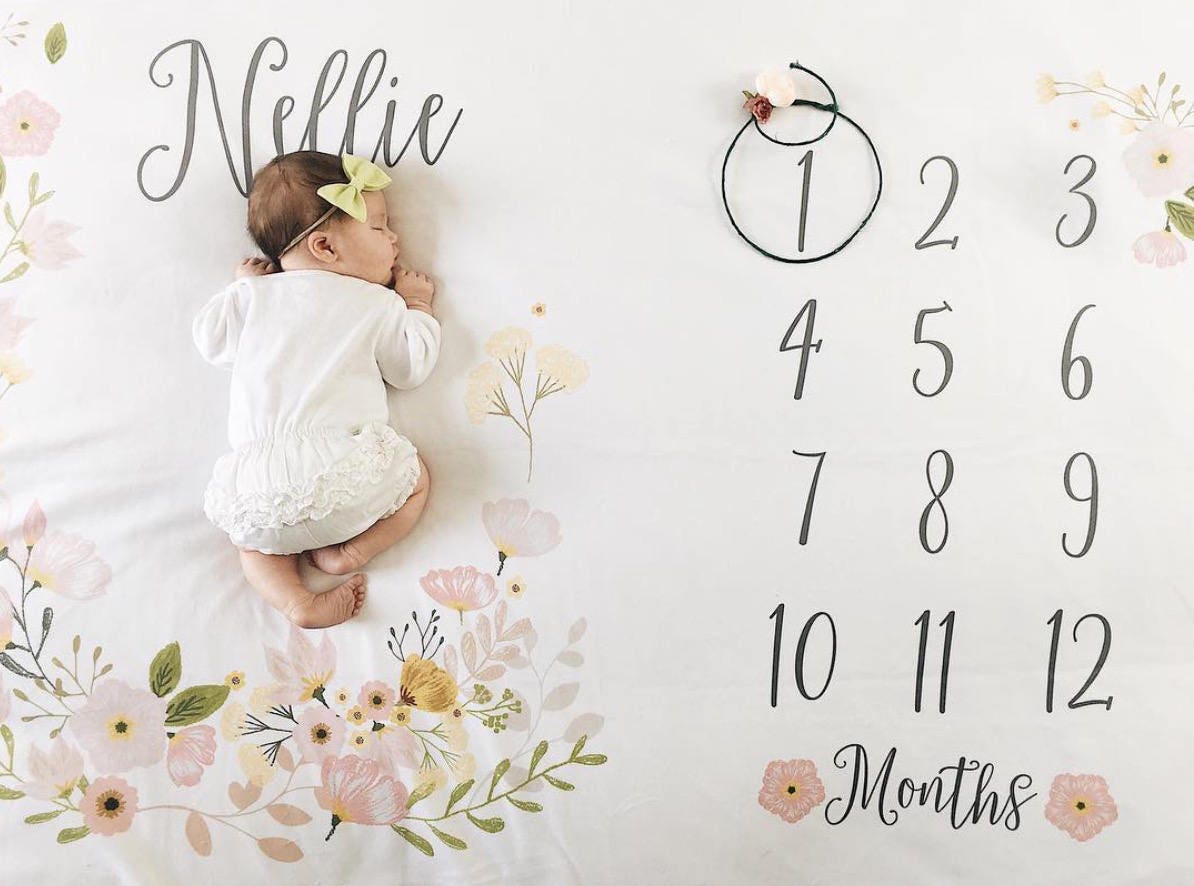 This floral monthly milestone blanket is so gorgeous! It features beautiful pastel flowers on a white background. Also, it can be personalized with baby's name in a beautiful script font! This blanket provides such a lovely backdrop for the new parents to photograph their baby girl on each month for her first year of life.
This blanket is available in multiple styles, including fluffy fleece, smooth fleece, and luxurious sherpa. It also is available in numerous sizes from 30×40″ to 50×60″. Finally, there are so many different blanket designs to choose from (including blankets for twins, found here!) so you'll be sure to find the perfect blanket that fits your style and needs. This is truly such a wonderful gift that any new parents would adore for their baby girl. The special photo memories of their baby captured on this blanket will be cherished forever!
---
This watercolor floral art print features a beautiful bouquet of blush roses and would look beautiful in baby girl's nursery! It is so feminine and soft and would make a lovely baby girl shower gift.
This is a digital download printable so you can either print the art directly from your home computer or through your chosen print center. Your purchase includes four print sizes (11×14″, 8×10″, 5×7″, and A4) so you'll have a perfectly sized print for any size space! This print is also available in a matching set of three (found here), which would look beautiful displayed over baby's crib or dresser. Additionally, a matching floral "love" art print can be downloaded for FREE by clicking here!
---
---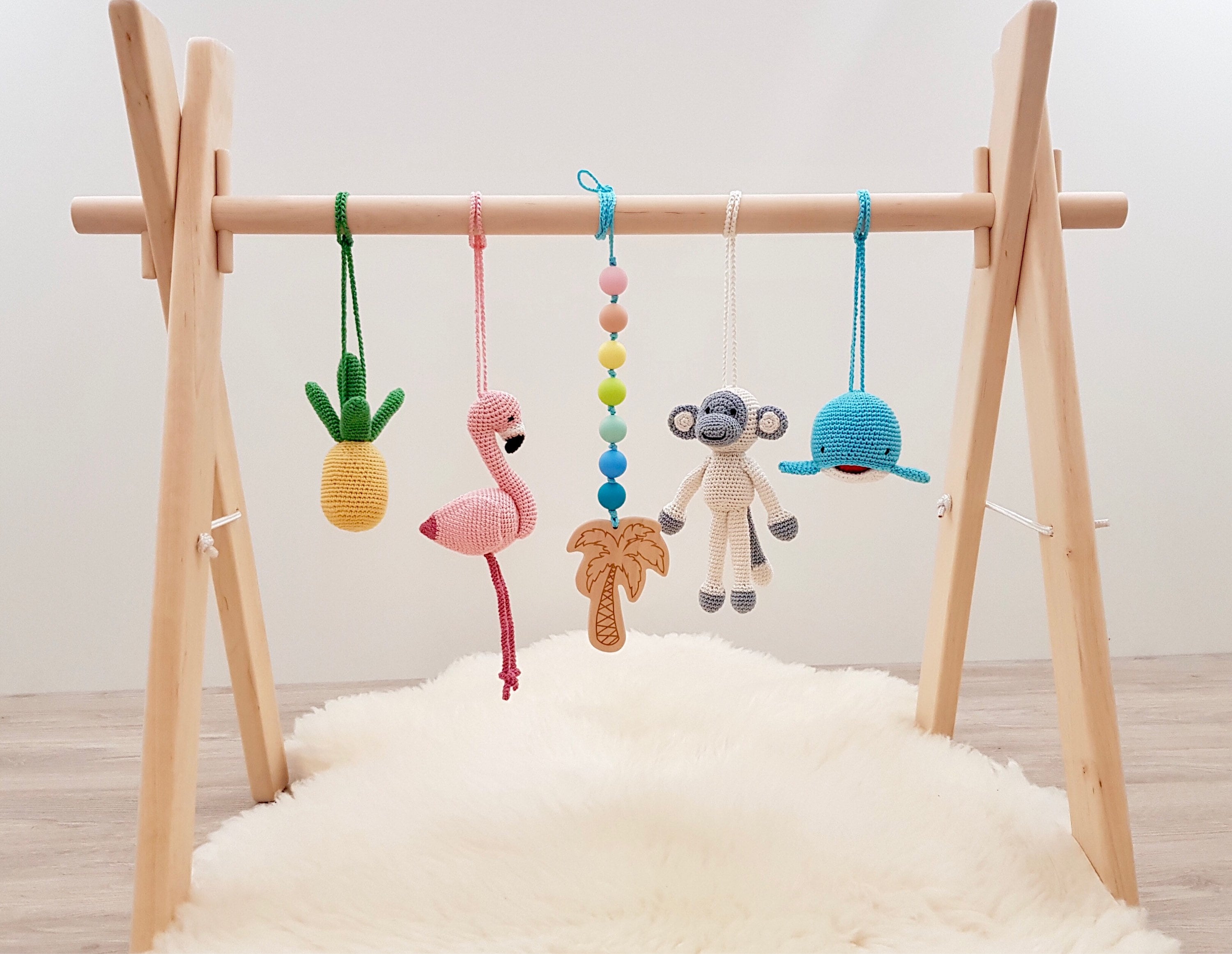 This tropical baby play gym is such a beautiful baby gift to stimulate baby's visual and motor skills! This gift includes a wooden gym frame as well as detachable crocheted rattles in a tropical theme, including a pineapple, flamingo, monkey, whale, and wooden palm tree teether with rainbow beads. Baby will delight in the beautiful colors of these toys!
The wooden gym is constructed of unfinished maple with a smooth sanded surface. It's easy to assemble and folds for storage or transport. The hanging toys are crocheted from 100% cotton yarn and have polyester filling with a rattle inside. This beautifully crafted gift will take baby on a joyful tropical adventure with its soft textures and bright inviting colors! This is such a beautiful heirloom baby girl shower gift that all new parents would love!
---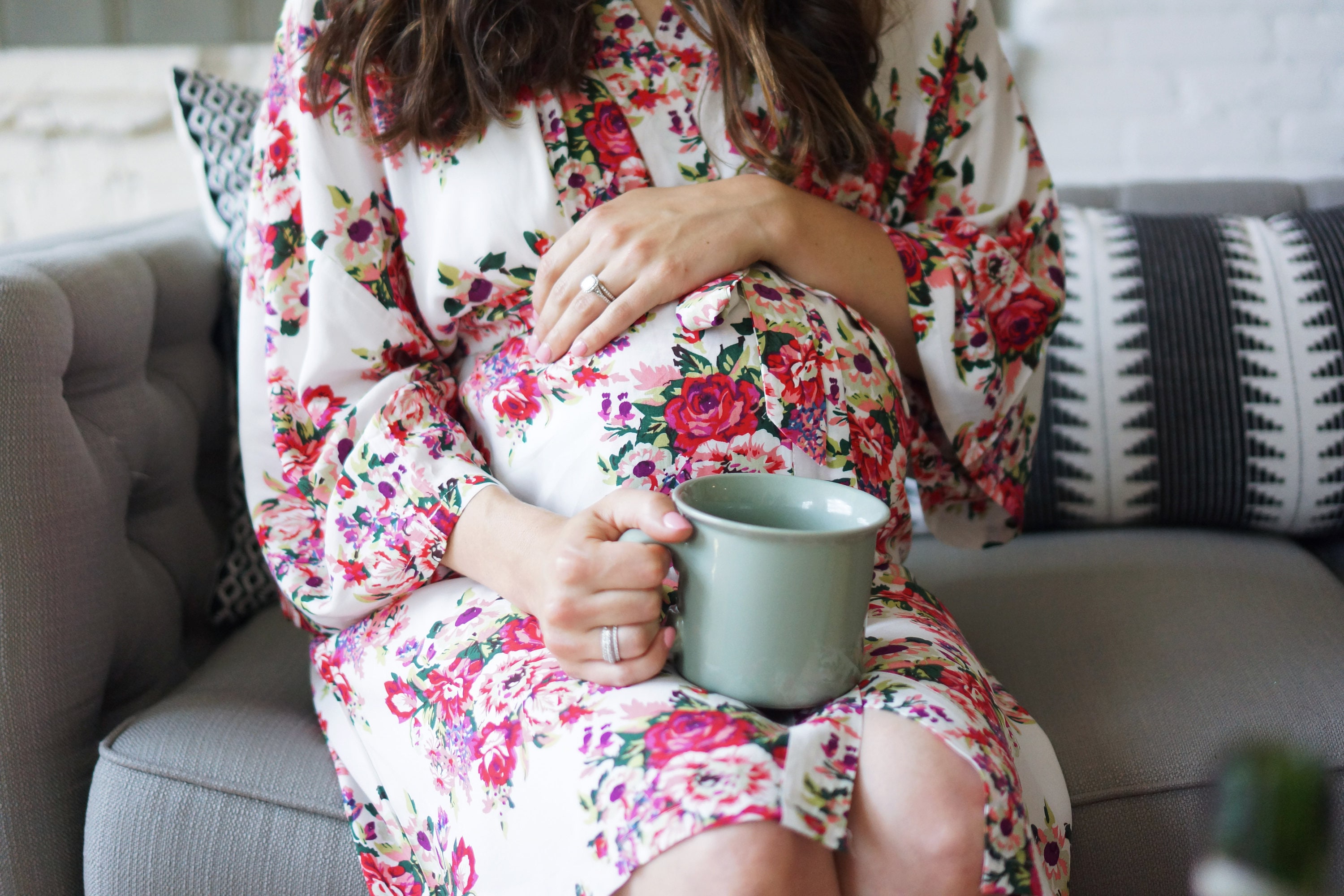 All mamas are radiantly beautiful but sometimes they don't always feel like they are, especially during pregnancy or immediately after giving birth. Help the new mom in your life feel like the gorgeous mama she is with this absolutely beautiful floral maternity robe! This floral robe is so versatile and can be used during pregnancy, at the hospital during labor, and also after giving birth! It's the perfect baby shower gift for the new mama to be!
This robe features a beautiful floral pattern and is available in a variety of colors including ivory, pink, purple, coral, blue, light blue, and black. It's made out of rayon cotton, which is a very soft and lightweight cotton. Also, you can purchase a matching baby swaddle blanket (found here) so the new mama can start twinning with her adorable baby from day one!
---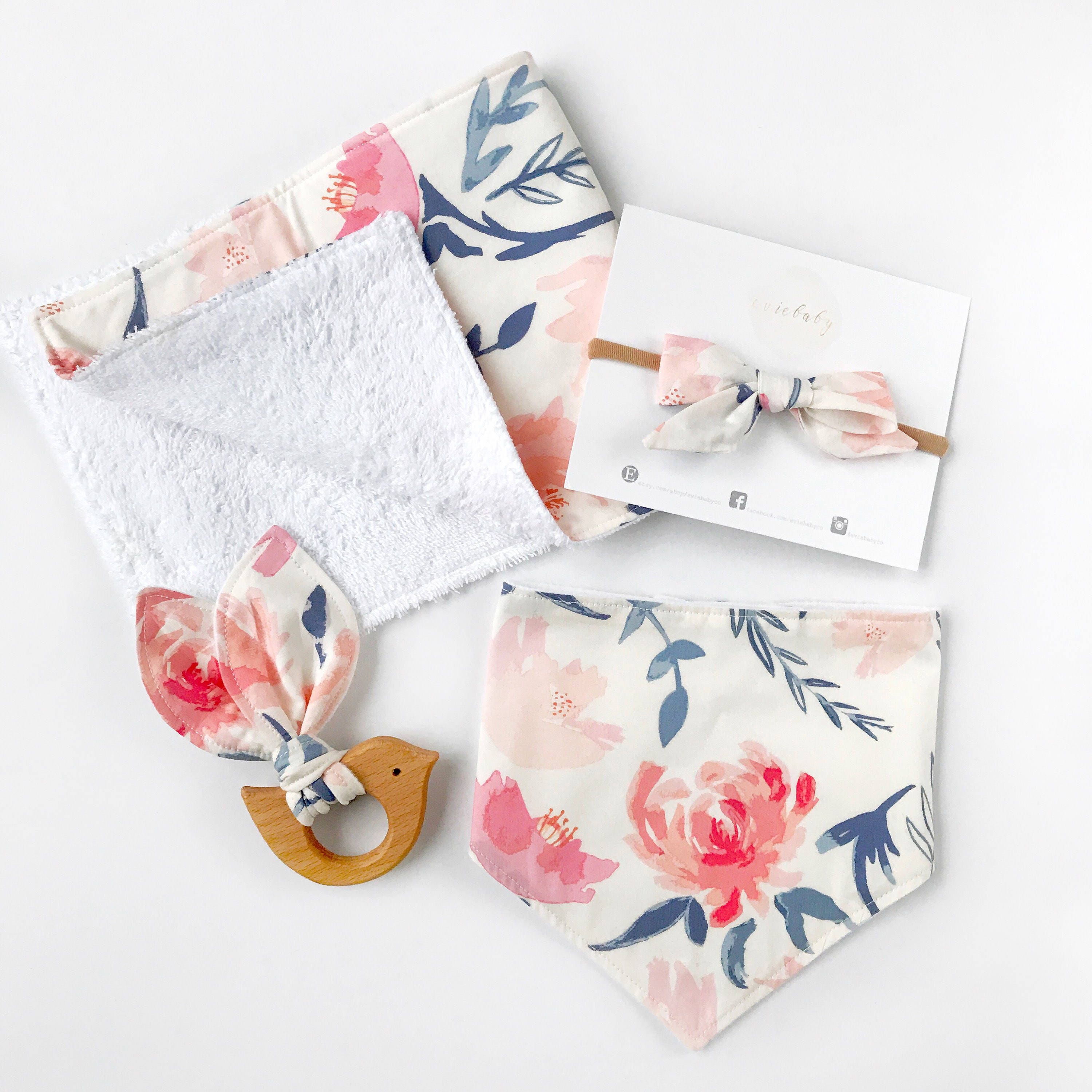 This watercolor floral gift set for a baby girl is so beautiful! It includes a bandana bib, burp cloth, natural maple wood teething ring, and a bow headband. All of the items coordinate with each other and feature the same gorgeous floral print. The expectant mom will swoon over this gorgeous baby gift set for her new little one!
The bib features a 100% cotton designer fabric front and is backed with a 100% cotton flannelette. The burp cloth features the same floral fabric on the front but is backed with terry cloth to provide additional absorbency. The wooden teething ring is made of organic maple wood that will help to soothe baby's sore gums. Finally, the bow headband provides a stylish and adorable way to keep baby's hair in place. This floral baby girl shower gift set is a thoughtful and beautiful gift that any new mom will absolutely adore!
---
---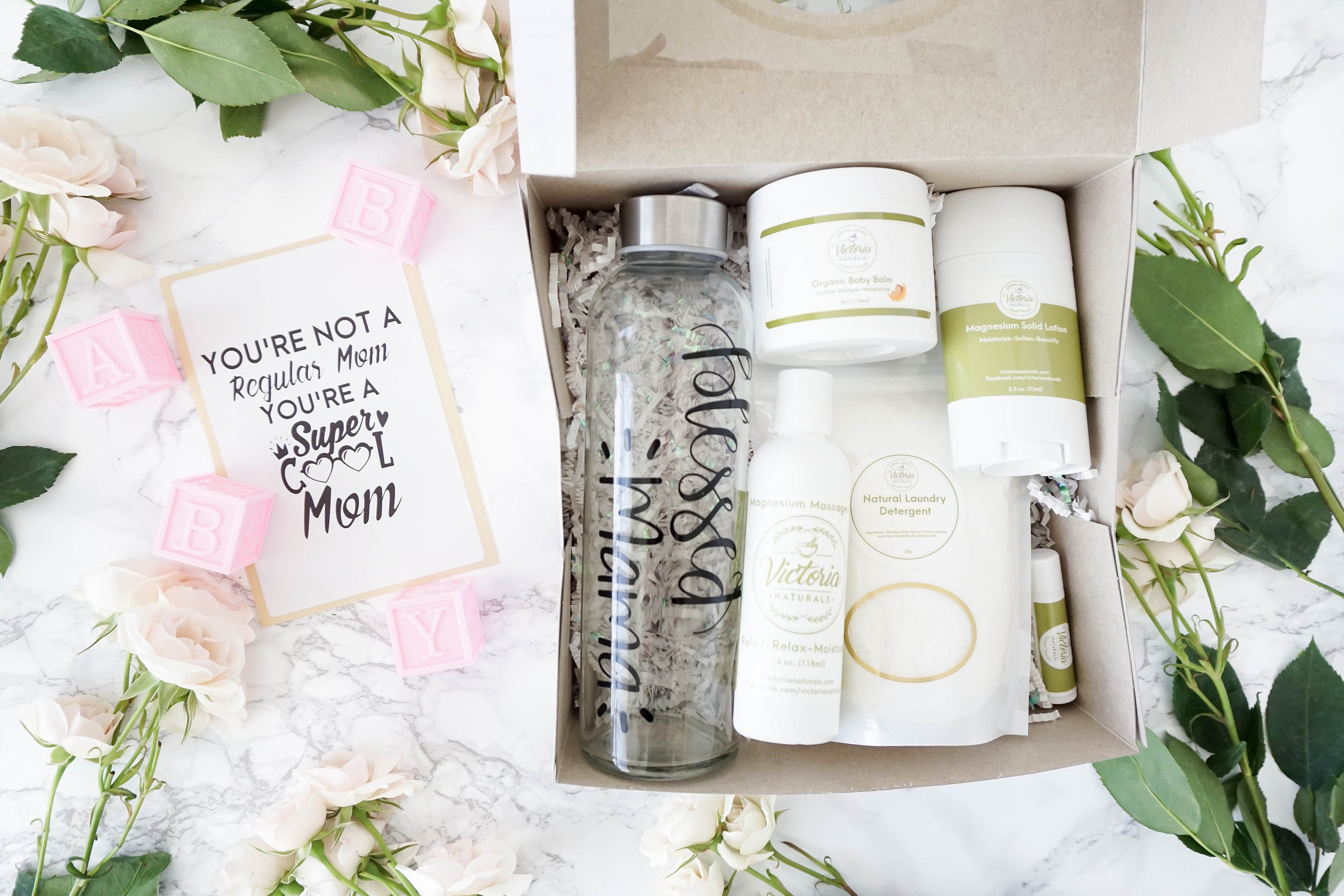 New mamas and their babies deserve to be pampered! This beautiful spa gift basket contains a variety of personal care products that have been assembled especially for moms and their new little bundle of joy!
This gift set contains a gorgeous "blessed mama" glass water bottle, as well as organic baby balm, a magnesium lotion stick, magnesium massage oil, organic lip balm, and natural laundry detergent. These items are all packaged in a white gift box so that they're ready to give as a gift to the new mom! This gift set provides a lovely opportunity to shower the new mommy with a little bit of pampering love for herself and her baby! And what new mama doesn't want to be pampered?!
---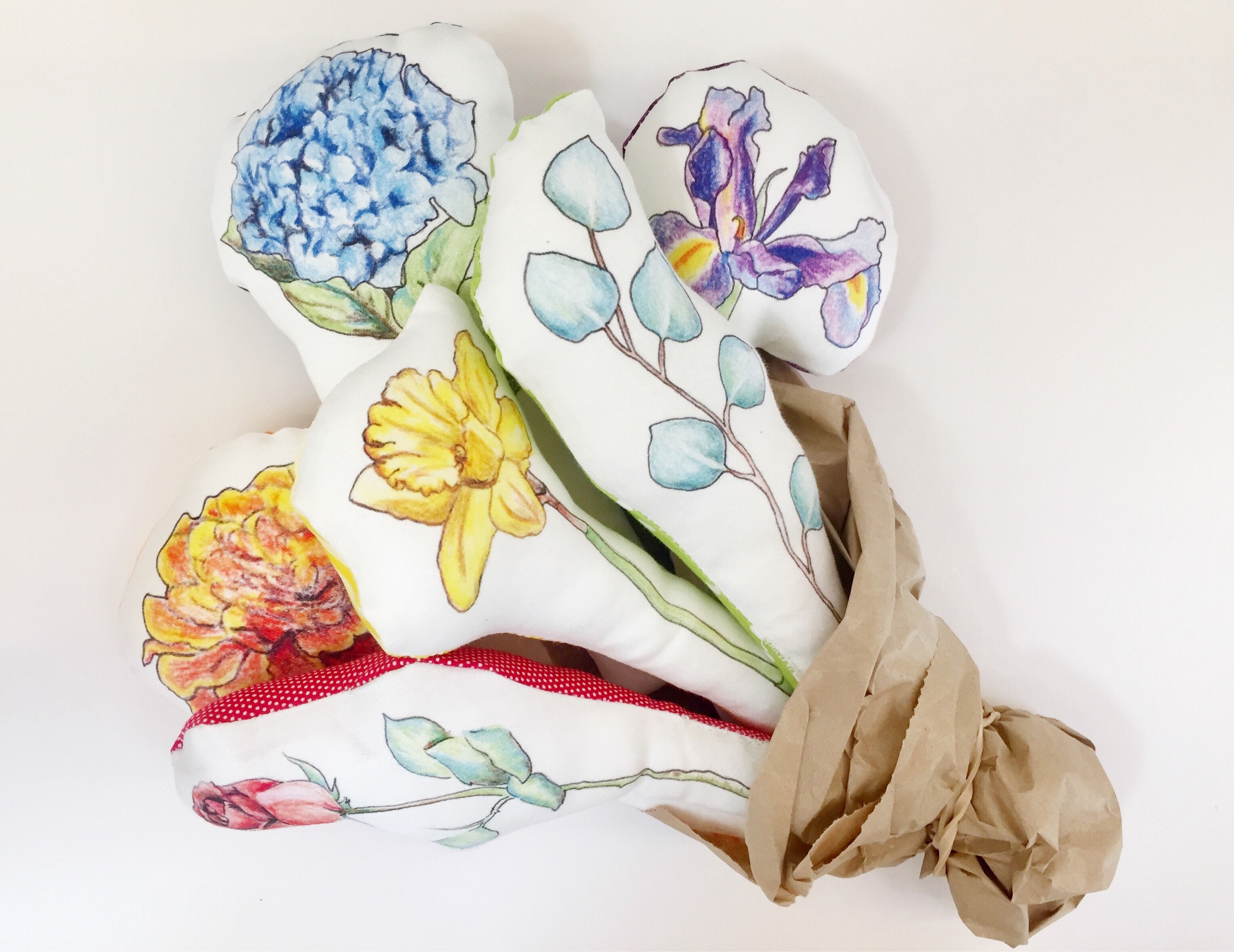 Give baby girl a beautiful bouquet!…of flower rattles! Each rattle features a beautiful floral illustration printed on 100% cotton twill with eco-friendly dyes that are baby safe. The polyester fill is 100% hypoallergenic and antibacterial so they're perfect for babies. Each rattle is also backed with a contrasting color fabric for the perfect finishing touch to this gift! Finally, you can choose to purchase just the plush version, or to include a rattle inside the plush.
Baby girl will LOVE playing with these soft toys! These gifts will also look beautiful displayed in the nursery when they're not in use! The flower options include rose, marigold, daffodil, eucalyptus, hydrangea, and iris. Buy one flower plush or buy the whole set to give baby girl her first bouquet of flowers!
---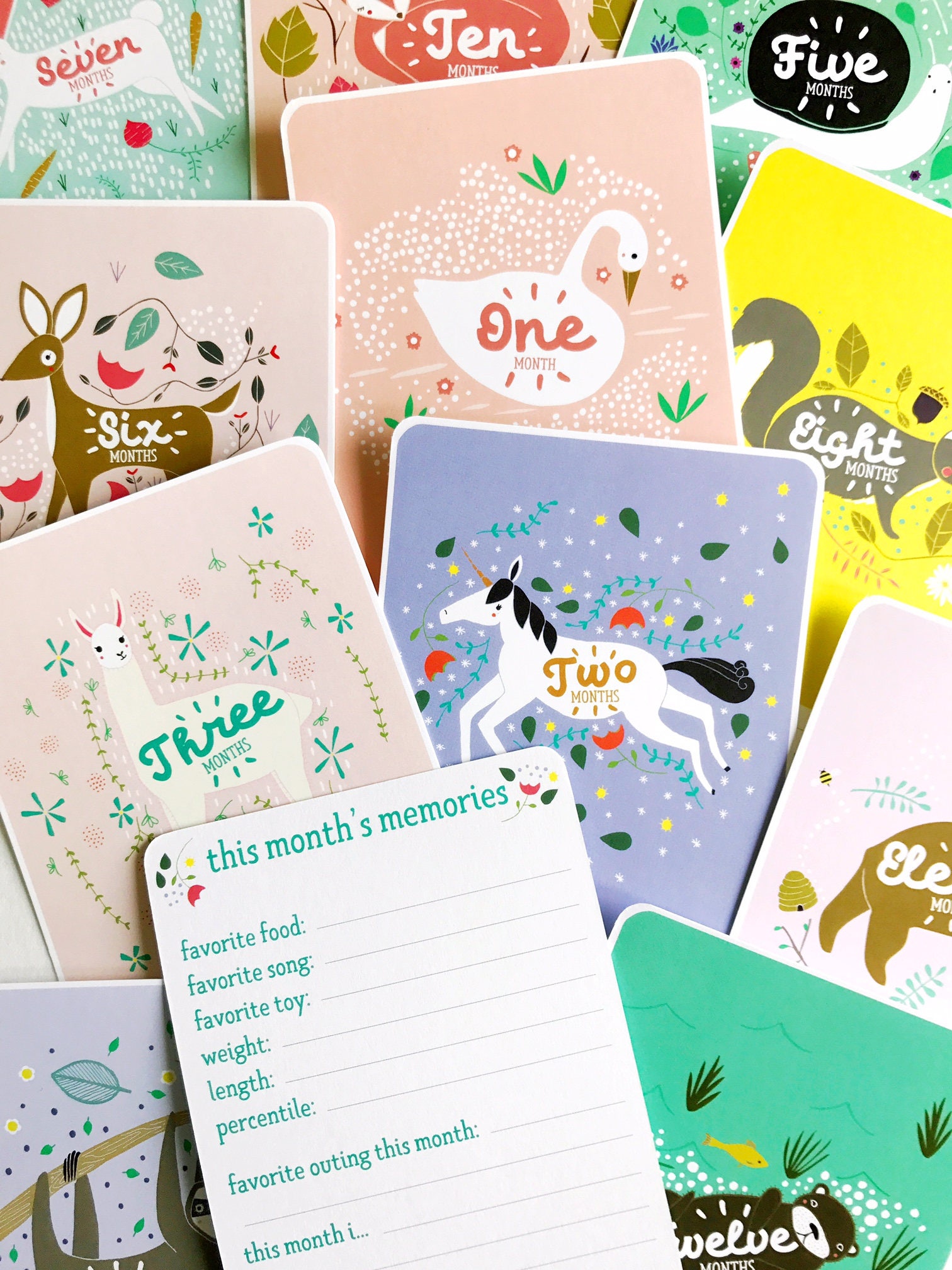 These baby milestone cards are such a beautiful gift for expectant parents! They can be used as photo props for baby girl's monthly pictures from month one through twelve and/or as memory cards for baby's milestones!
Each of these whimsical cards feature a gorgeously illustrated enchanted animal, including a swan, unicorn, deer, bunny, and many more! They are each 4.25″ x 5.5″ so they are perfectly sized to be used as props in baby's monthly photos. These cards also include space on the back to record baby's monthly weight, length and percentiles, baby's favorites for each month, and special monthly memories and milestones. These cards would be such a beautiful and special keepsake for years to come!
---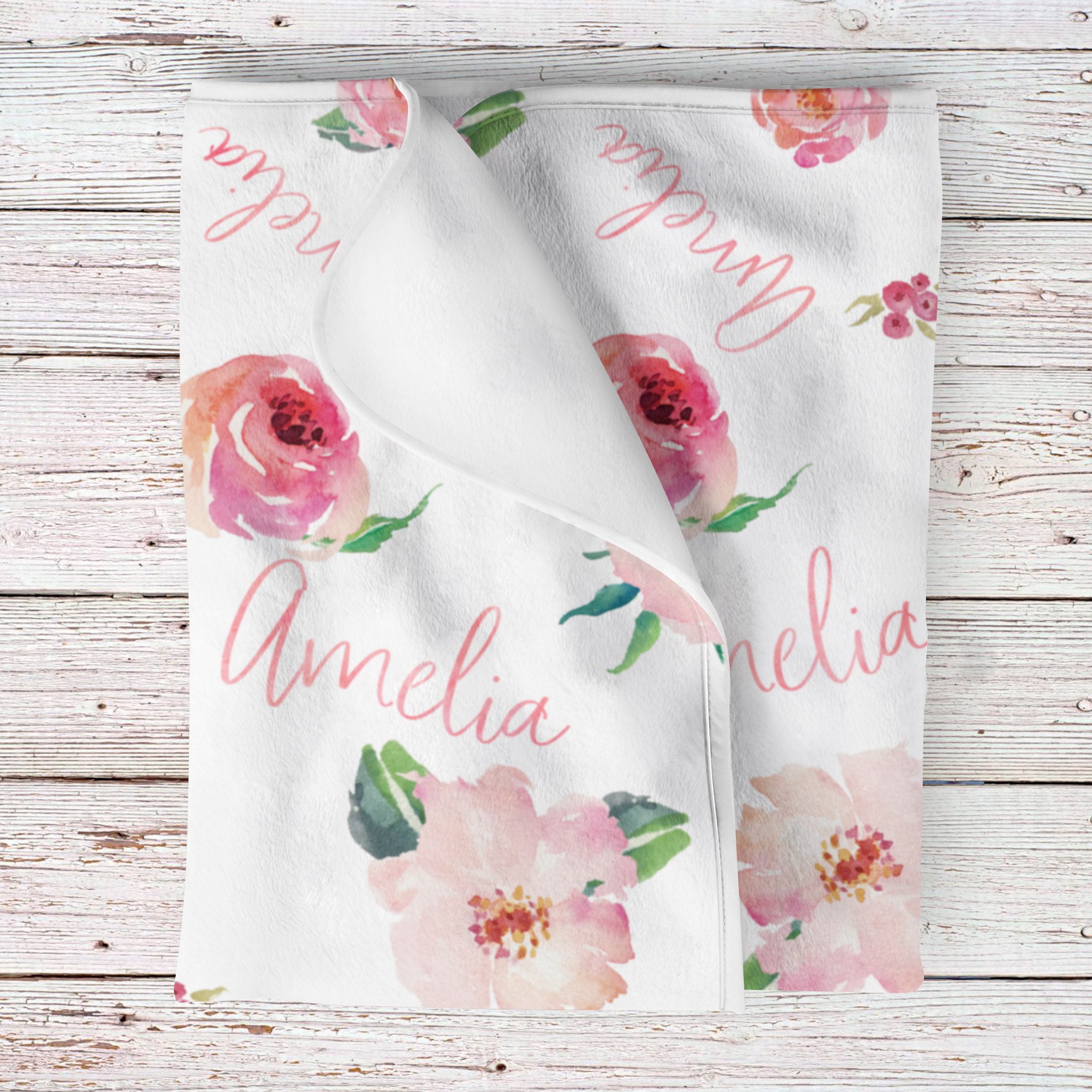 What a lovely baby girl shower gift this would be for the new baby! This gorgeous blanket features a coral watercolor floral pattern on a white background. This blanket can be personalized with baby's name in beautiful script lettering, which is such a lovely feature! Personalizing the blanket makes it an extra special and thoughtful gift for a new baby!
This blanket measures 30″ x 40″ and is made from a super soft fleece that will be super comfy for baby. The parents-to-be will love cuddling with their new little baby in this pretty and cozy blanket. It would also look beautiful on display in the baby's nursery. This gift will be a special keepsake for the new parents and their baby for years to come!
---
---
And there you have it, 10 beautiful and unique baby girl shower gift ideas! I know that finding a thoughtful gift for the new parents in your life can be challenging. I truly hope this gift guide was helpful to you! Please comment below and let me know what feature of this gift guide you liked best! Also feel free to ask me any questions!
Looking for more gift ideas? Visit my shop HERE for beautiful printable wall art for babies and children!
Thanks for reading!